12.23(Sat)CONNEXION × SUNNY

今年の夏に1周年を迎えた、スーパールーキーテクノパーティ"CONNEXION"。
2017年最後となる今回はSUNNYとのコラボレーションパーティーとしてSUNNYからBLACKSHIP、VJ TONTONを招いての開催!!
ーーーーーーーーーーーーーーー
CONNEXION × SUNNY
12.23(Sat) 2017 at En-sof Tokyo
11PM OPEN
Entrance: ¥2000
Guest List: ¥1500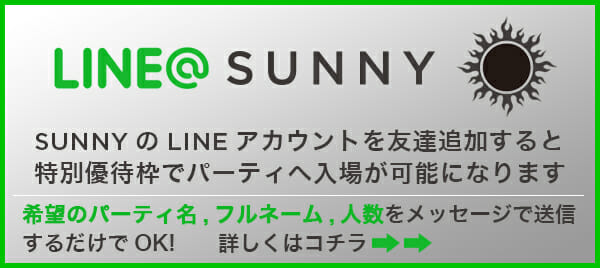 ↑Special discount when registering↑
Please send me your name in the LINE message
*優待締め切りは12/23   23:00
  [deadline 12/23   23:00]
ーーーーーーーーーーーーーーー
DJs-
BLACKSHIP
AKARI
Atsuki
KiTE
Myst
Shotaro Miyajima
VJs-
VJ TONTON
Shotaro Ito
Kosuke Nakajima
ーーーーーーーーーーーーーーー
A group of up-and-coming artists have come together to create something new and vibrant.
Starting on August 27th, the event "CONNEXION" (held on the 4th week of every even month) will be hosted at En-sof Tokyo, Shibuya.
From "SUNNY" DJ's KiTE and Atsukiーthe organizersーand the others, from all walks of life, will each be presenting their unique and creative takes on house and techno.
This new generation of artists will be sure to connect you to a world of fresh beats and sounds. Don't miss out on "CONNEXION".
Iflyer:https://iflyer.tv/ja/event/297174
RA:https://www.residentadvisor.net/events/1044959
ーーーーーーーーーーーーーーー
Sound Art Paradise EN-SOF TOKYO
[Address] 〒150-0043
SHIBUYA DELI TOWER B1,2-23-13,
Dogenzaka,Shibuya-ku,Tokyo
,Japan [Access] 渋谷駅→109→ヤマダ電機→ドンキ跡地→スタバ→俺流
塩ラーメンから3軒隣り、渋谷デリタワーB1F。左脇の
通路奥のEVからどうぞ!
You may also like...