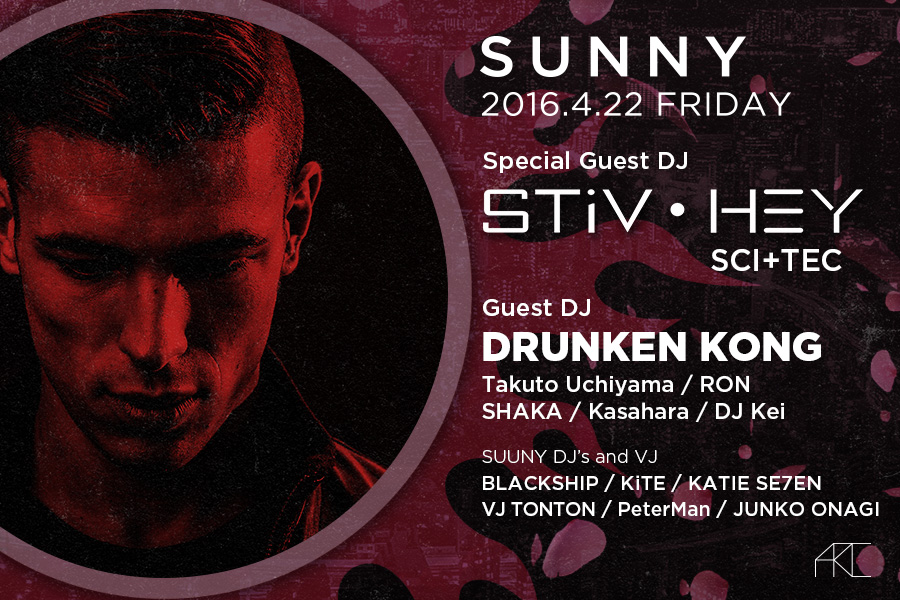 SCI+TEC 期待の新星
"STIV HEY"がイタリアより初来日!!
The new star approved by SCI+TEC
STIVE HEY's first visit to Japan!
04.22 FRIDAY
SUNNY - Guest STIV HEY
at ARC TOKYO
[Date] 2016.4.22(FRI) 22:00〜

[Entrance] DOOR:¥3,500
WITH FLYER:¥2,000
EARLYBIRD/INTERNATIONAL/U-25:¥1,500
新成人: ENTRANCE FREE
*エントランスにてこのWEB SITEを提示で
WF:¥2,000でご入場可能です。

[ MAIN FLOOR]
■ Special Guest DJ ■

STIV HEY
(SCI+TEC)
■ Guest DJ ■
DRUNKEN KONG
(Tronic / Session Trax)
■ Sunny DJs ■
BLACKSHIP
(黒船会議)
KiTE
KATIE SE7EN
(Knock & Answer)
■ Sunny VJ ■
VJ TONTON
(momentgram / MUSIC ON)
■ PA ■
Toru Ikegami
(nice sound)
[ FRONT FLOOR]
■ GuestDJs ■
Takuto Uchiyama
RON (Woo)
SHAKA
Kasahara(SYMPATHY)
DJ Kei
■ Sunny DJs ■
PeterMan (DEEP END)
JUNKO ONAGI
*写真付きIDのチェックをエントランスで行います。20歳未満のお客様はご入場頂けません。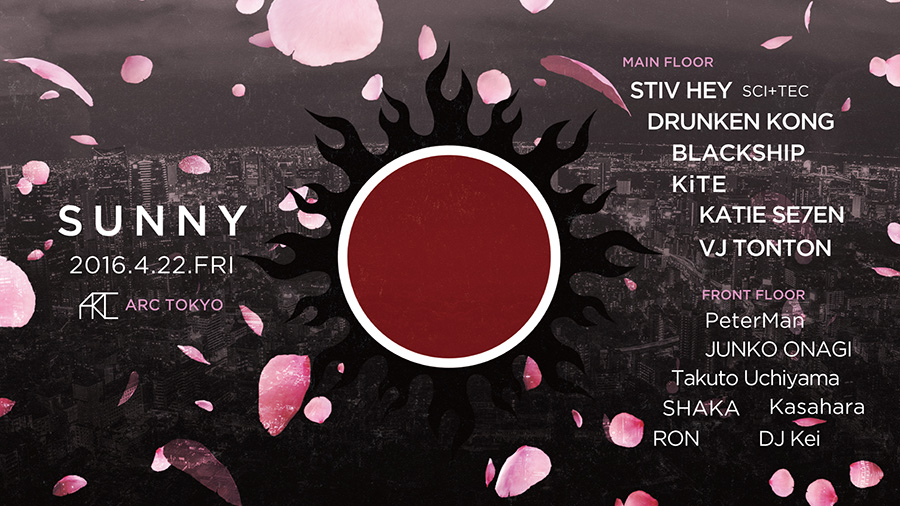 Richie Hawtin、Adam Beyer、Marco Carolaなどとの共演も多く、Dubfireのレーベル" SCI+TEC "からリリースを重ねるなど、今最も目が離せないSCI+TEC期待のアーティスト!" STIV HEY " ダークな疾走感がかもしだすヒプノティックサウンドを見逃すな!

He often performs with other artists such as Richie Hawtin, Adam Beyer, and Marco Carola and repeatedly releases music with the "SCI+TEC" label of Dubfire, and all these make him a most enthralling artist! "STIV HEY"
Don't miss the hypnotic sound that brings about the dark speedy-feeling!

更に今回は!TronicからのEP"To The Piece"がBeatportでテクノチャート2位を獲得するなど世界的に人気が高い、日本屈指のテクノデュオ"DRUNKEN KONG"が出演!!完全に息のあったパフォーマンスは必見!

Furthermore, this time! The EP "To The Piece" from Tronic got the 2nd place during the techno chart of Beatport and made him worldwide popular, which is going to be performed in the leading techno duo of Japan "DRUNKEN KONG"!! The performance in perfect unison is absolutely worth seeing!

ラストを飾るのは、SUNNYから"BLACKSHIP"
Pacha Ibizaにも出演経験のあるDJユニット。ドライブ感のあるグルーヴが特徴的で、音に動きや圧縮感を持たせ、LIVEのような臨場感を体感させることを追求している。SUNNYグルーヴを体感してほしい!

The last but certainly not the least to play, is SUNNY's own BLACKSHIP.
The amazing duo has experience playing for biggest of the clubs, like the Pacha of Ibiza. Their sound is characterized by live feel, elevating groove, and movement of sound. Experience the groove of SUNNY!!

映像による演出は、IBIZAのモンスターパーティ"MUSIC ON"のレジデントVJ "VJ TONTON"が担当。 前回のSUNNY@ARCで大胆に壁一面をスクリーンにした映像演出が、すさまじかったのが記憶に新しい。パーティ中のDJ,Lighting,VJ,PAとのシンクロ率はすさまじく圧巻。MAIN FLOORの出演者とのセッションを楽しんで貰いたい。

Of course, the video performance boldly using a whole wall of a building as the screen during the previous SUNNY@ARC is still fresh in our memory, and the resident VJ of IBIZA's monster party "music on", "VJ TONTON" will also participate in this event! What kind of performance will he bring to us this time!?
ARTIST INFO
SUNNY GALLERY

TIME TABLE
Coming Soon...

SUNNY
東洋の島国から産まれたパーティーは太陽とともに、様々な国のCultureと交わり、国境も超えて、心の絆で繋がっていく。

音と光に包まれて世界中の仲間達とパーティーをしよう。 そのパーティーの名前は『SUNNY』。
未来のParty Peopleが世界へはばたけく架け橋の空は晴れ渡るように…

This party, born from the island of the East, will bring people's hearts and minds together, reach across borders and the cultures of people from all over the world will become one under the sun.

Party together with friends from around the world, enveloped in light and sound. That party is SUNNY. So that the party people of the future can go ever onward towards a clear, bright sky.

FACEBOOK
https://www.facebook.com/ibiza.sunny
WEB SITE
http://www.ibiza-sunny.com/
0422.SUNNY.FACEBOOK EVENTPAGE
https://www.facebook.com/events/1533668530271816/